The first-ever IDA MLO training of lighting professionals, concerned energy managers, and dark-sky enthusiasts took place in Seattle (WA) on Wednesday, October 26th. Nancy Clanton presented the MLO training package to lighting designers, members of city councils, city planners and code enforcers, civic activists and amateur astronomers. She introduced the MLO including its history and the range of intended, potential uses of the MLO.
The presentation continued with indepth explanations each of five Lighting Zones and a dissection and description of the BUG rating system.  Nancy's presentaion of the training culminated by "walking-through" several simple and complex sample lighting plans that demonstrated the clarity and precision possible when  utilizating an MLO based lighting ordinance. Nancy turned the meeting over to Scott Kardel who moderated a period of questions and answers and offered concluding remarks. Closing comments with regard to the MLO were all positive with a number of suggestions made by the group to reach a wider audience.
For more information please visit: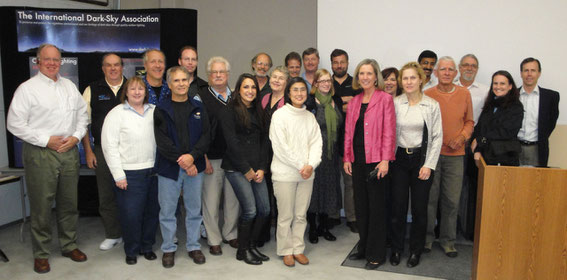 Participants in the first ever Model Lighting Ordinance Training workshop. Presented by Nancy Clanton [pink jacket center - Clanton & Associates, Boulder Co], Scott Kardel [left behind Nancy - IDA, Tuscson Az] and David Ingram [far left - DarkskiesNorthwest.org].