The International Dark-Sky Association is now
DarkSky International! More information coming soon...
The beautiful and easy to find Summer Triangle is visible in the east after dark (which is in short supply close to the solstice, but getting a bit longer each night).
Are you ready for summer stargazing in our great state?  Check out this article from Space Tourism for 13 places to stargaze. Find star maps from Stellarium on the web to find constellations and much more! Additional information below.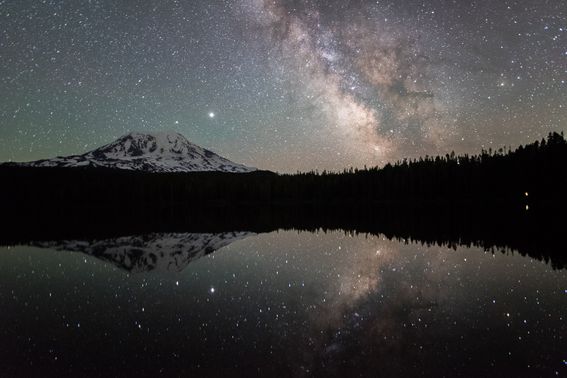 Mt. Adams and The Milky Way   Photo credit: Zach Schierl                                  
Lots of resources and information at Go Astronomy including a list of dark sky places in Washington. One note: Rockport State Park in WA is not an IDA certified park but Rockport State Park in UT is. Goals...
List of Washington dark sky places for stargazing, astrophotography, club events, and more.
 Light pollution from Pittsfield, Massachusetts, U.S. and the Milky Way from the top of Mount Greylock courtesy of Lauren Scorzafava.
From IDA's January 2023 Nightwatch Newsletter:
New study highlights the need for urgent action to reverse runaway light pollution
An alarming new study based on data from NSF's and NOIRLab's Globe at Night program concludes that light pollution is increasing at an astounding rate. This rapid brightening of the night sky over large portions of the Earth has serious consequences for all living things. The authors conclude that "existing lighting policies are not preventing this increase, at least on continental and global scales." The startling increase in light pollution is a clear wake-up call for policymakers that decisive and immediate action is needed to address this urgent environmental threat.
Click here or the News tab above to find out more about Globe At Night and how you can help with this community science effort to track light pollution!